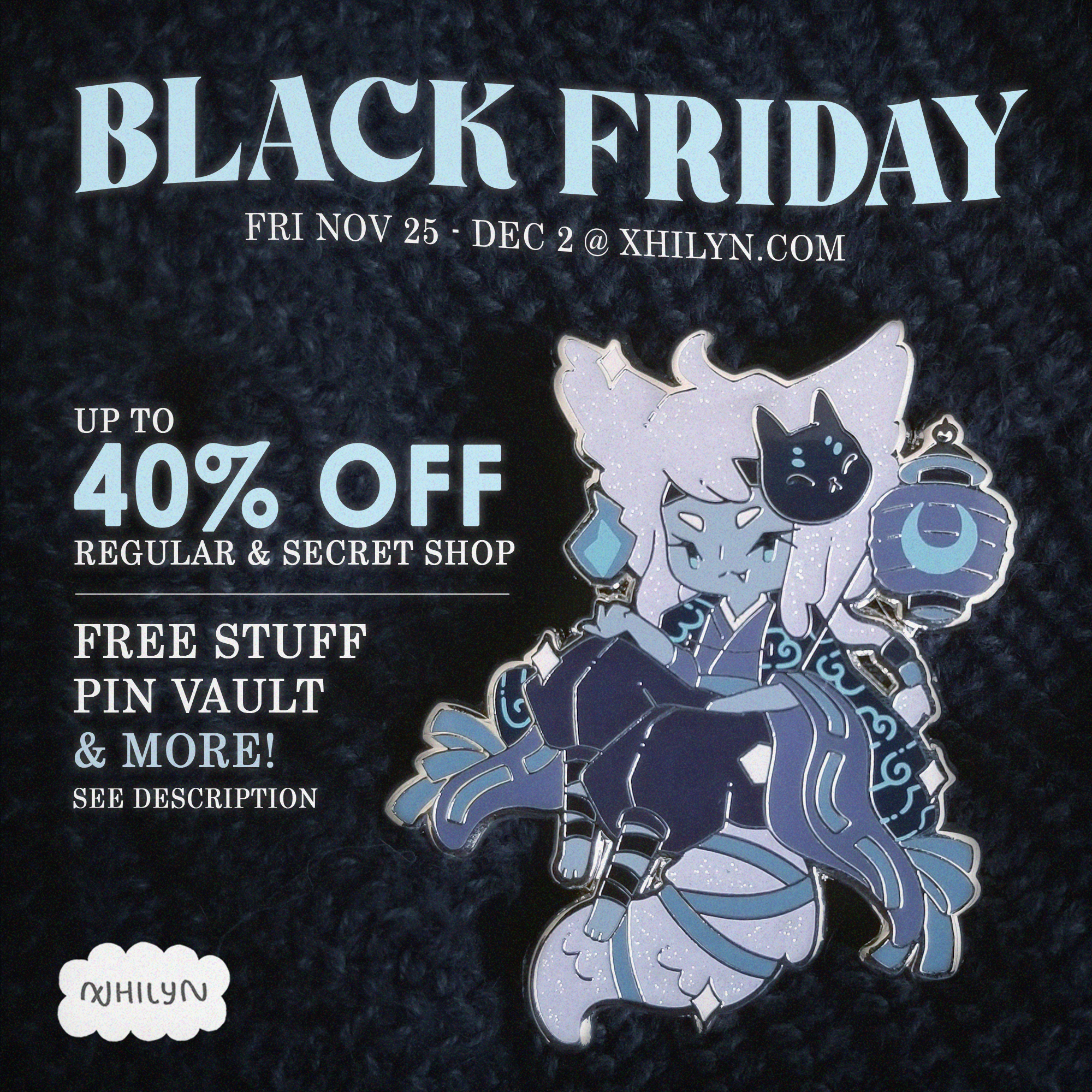 Happy shopping everyone :D Find info below for all my Black Friday goodies this year ♥
Start: Friday Nov 25  @ 12am PST
End: Friday Dec 2 @ 11:59 PST
Location: Xhilyn.com
Etsy info: I will have discounted items on Etsy but that shop won't have anything beyond that for Black Friday (no freebies, pin vault, etc, just a discount for those who stumble upon me via Etsy)
40% off black/white themed items
20-30% All other items
Excludes Mystery Bags, Pin Vault items,Charity or Fundraiser Pins, & Gift cards

20% off Patreon Secret Shop items
This is for current paid patrons only. You would have been charged around Nov 2nd and received a password via Patreon mail. I've extended November Patreon benefits to end on Dec 2nd.
Every order - Postcards & stickers
I'll insert a mix a few bonus postcards and stickers in every order, in addition to the typical freebies I add to orders :D

$30 - Free B-grade Nightshade Moon pin
While supplies last - I have about 200. These are mini black nickel pins with 2 backs! 

$50 - Free mini pin
Spend $50 and get a free random mini pin, typically exclusive to patrons. Below is all of the ones included for the event ♥ Sizes vary from 0.6" to 1.55" tall.
The pin vault is a place where Limited Edition Patreon pins can be bought by non patrons. The permanent pin vault is only B grades of designs older than 1 year. For Black Friday I add some of the recent ones in small quantities ♥ Coupons do not apply to these.
Added to permanent pin vault
B grades (no quantity cap, just however many I have left)
November 2021 - Black rose magician & baby bird
September - Tea witch & baby bunny

Added for Black Friday only
25 A grades and 25 B grades each
January 2022 - Baby's Breath & baby bunny
February 2022 - Monstera & baby lizard
March 2022 - Water Lily & baby frog
April 2022 - Bamboo & baby monkey
May 2022 - Dandelion & baby weasel
June 2022 - Succulent & baby mouse
July 2022 - Snapdragon & baby flamingo
August 2022 - Hydrangea & baby sheep
September 2022 - Ginkgo & baby moth
October 2022 - Nightshade & baby crow
No coupons needed for anything above!
Discount coupons don't stack. Free shipping coupons might be a good idea if you have some saved from my store's loyalty program :D
If you already have the black moon pin as part of the October club, please email me your order # and I'll send you a different mini pin instead ♥ hello@xhilyn.com